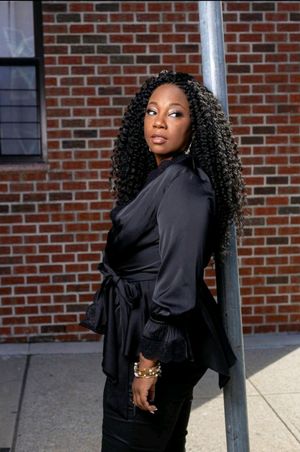 "Show me, show me you really love me'" 
The catchy hook from the Cover Girls, a native New York female group that rock the music scene in the 80's, are still words to this very day female artist like Shatia Nerisse express in song. The Cover Girls lead vocalist's sister lived right next door to her family home in the Bronx, NY. "Can you imagine turning on the television and seeing someone you can see in real life, from your tv screen visiting your neighbor right next door". That's how close the sound of catchy music over uptempo beats was to Shatia Nerisse at such a young age. So as she embarks on her musical journey with an EP called D-Series she embodies that same philosophy. Telling stories of lost love, reclaiming self love, the story of fear from attaching to someone again, and being fearless when it's time to walk away. 
A native to New York herself from being raised in the Bronx, and later migrating to Harlem, NY she witnessed, with the divorce of her parents, the impact a divorce has on people so it comes as no surprise she tackles love head on with tracks like "Divorce" on her EP. To catchy song titles like "Do Better", "Deep Love", and "Dishonest" to name just a few. She embodies her EP's signature by holding strong to what she refers to as D-Series. Derived and birthed from her very own divorce, after 16 years...."I felt like what is next, what will my next chapter look like". 
Already an established songwriter, with Groove Control Productions, Shatia Nerisse felt she slept on a gift when she heard her very own "Baby Come On" from Lion's Full Circle album, later retitled "Go With Me" on several cable tv shows like VH1s "Single Ladies", MTVs "Guy Code", and "Disconnected". "Hearing your music played on such a public forum, I mean there is no feeling that can describe the rush of emotions you feel in that moment". 
So coming from behind the scenes as a songwriter, Shatia Nerisse steps out bold, taking her past and writing it in song, she embraces the HIP HOP/R&B genre following in the footsteps of one of her favorite musical artist Mary J. Blige, giving us her very own 411 on life and love. Telling stories over hip hop uptempo beats from Monogram Mixed Media producer Mark "Polo" Anderson, to the sounds of R&B's timeless head bopping base driven beats from producer Keath Lowry with her very own camp Groove Control Productions. Look out for the release of her single "Deep Love" in December, and the release of her first EP D-Series dropping early 2021.